In an exciting development for AST Hampsons, their Bury branch have undergone a significant expansion of its office space. Their office is conveniently located just off junction 2 of the M66 and has ample free parking spaces.  The expansion is a testament to the remarkable growth the business has experienced in recent years, as well as the exceptional team of professionals driving their success.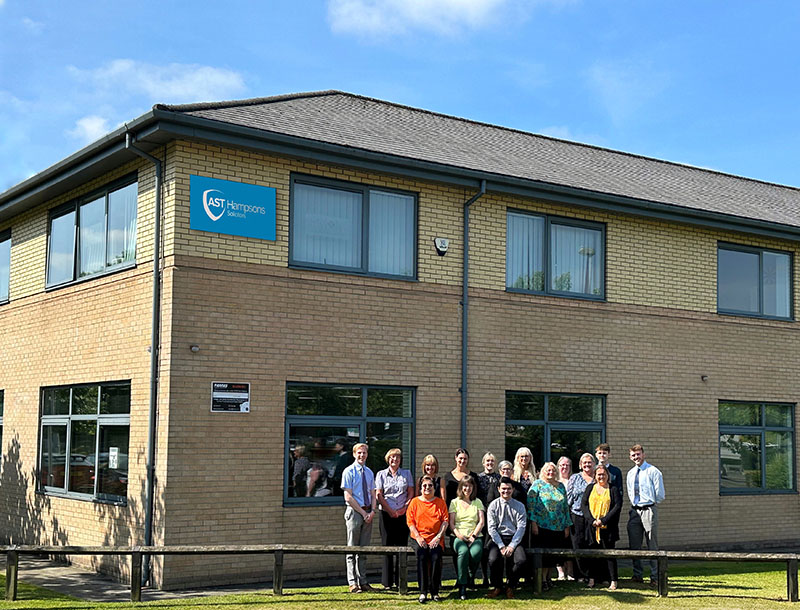 AST Hampsons, a prominent player in the industry, has consistently demonstrated its commitment to delivering high-quality services to clients. Their expertise spans a wide range of fields, including Conveyancing, Commercial, Private Client, Family and Litigation services. With a strong focus on client satisfaction and a dedication to staying ahead of the curve, it comes as no surprise that the firm have achieved significant success and necessitated this expansion.
The decision to expand the office space at the Bury branch reflects AST Hampsons' recognition of the importance of accommodating their growing team. As the business continues to attract talented professionals and expand its client base, providing an environment that fosters collaboration, innovation, and productivity becomes increasingly crucial.
One of the key factors contributing to the business' ongoing success is its exceptional team of people. AST Hampsons are known for the ability to attract and retain a talented legal team who bring a wealth of knowledge, skills, and experience to the table. By nurturing a positive and supportive work culture, the business has created an environment where employees can thrive and reach their full potential.
The expansion of the office space in Bury will undoubtedly enhance the business' ability to provide top-notch services to clients. With a larger and more efficient workspace, AST Hampsons can streamline its operations, optimise workflow, and accommodate an ever-growing team. This expansion will enable the business to better meet the evolving needs of its clients while maintaining the highest standards of professionalism and service excellence.
If you're seeking reliable and comprehensive legal service, AST Hampsons is an excellent choice. They are well-equipped to handle a diverse range of requirements. Whether you're an individual seeking personal legal assistance or a business looking for expert financial advice, AST Hampsons have the expertise and experience to assist you.
By choosing them, you can benefit from their unwavering commitment to client satisfaction and their ability to provide tailored solutions. The team of professionals take the time to understand each client's unique needs and objectives, delivering personalised services that produce optimal outcomes.
In conclusion, AST Hampsons' decision to expand their office space at the Bury branch is a clear indication of their impressive business growth and the exceptional team of professionals behind their success. If you're in need of reliable legal, accounting, or financial advisory services, look no further than AST Hampsons. With their expanded office space and a team of dedicated experts, they are well-positioned to meet and exceed your expectations. Contact AST Hampsons today to benefit from their outstanding services and experience first-hand the difference their exceptional team can make.
Published:
Thursday, 8 June, 2023 - 13:29