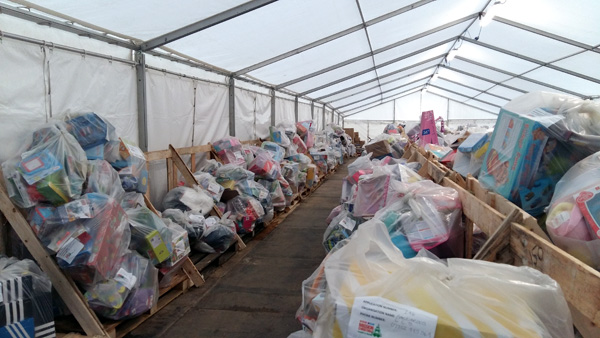 I took our collection of presents over to the Key 103 drop off yesterday. They were really pleased to accept them and I spent a little while in the drop off centre with some of the volunteers. They were sorting through the thousands of donated presents trying to make sure that the right gift gets to the child it has been requested for.  It really is just like elves in Santa's workshop checking all the letters written by children asking for something for Christmas – only in many cases it is parents, children's centres, schools and other organisations who have written in and asked for a specific gift for a child who otherwise will get nothing.
I have attached a couple of pictures of one of the marquees where the donated gifts are brought to be sorted, behind this there was an enormous warehouse filled, floor to ceiling with labelled gifts – it is an amazing operation and so many people were in there having given up their time to volunteer. There were thousands of presents waiting to be sorted still but the volunteers said that this year, they were very much down on their collection totals and they are worried they will not meet the targets for this year. That means there could well be children going without.
Thanks to all who responded and gave a gift – there are 30 more children who will receive a present Christmas morning because of you and a massive THANK YOU  to Mr Paul Watson, it is only because of you we have made this a company effort!
By Anna Murzell
Published:
Friday, 23 December, 2016 - 10:45