It was a proud night for the AST team when Charlie Robinson, an apprentice currently working within our conveyancing team, was crowned "Apprentice of The Year" at the Rochdale Business Awards.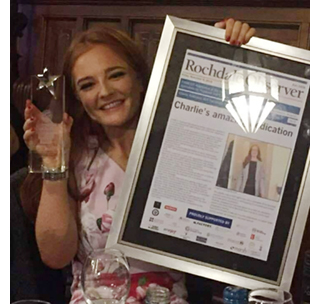 Charlie joined AST Hampsons as a junior apprentice on the Business Administration course and has displayed an ambition to develop within the firm since she started.
Charlie has gained confidence dealing with clients and has progressed rapidly from a purely administrative role to assisting on conveyancing files under the supervision of Anna Murzell, who recruited Charlie into the firm. She is currently part way through her training to become a qualified paralegal.
Commenting on Charlie's success, Anna says:
As a firm AST Hampsons have been committed to the apprentice scheme for a number of years. There has been some negative press in the news recently about the scheme however, we have found that it has been an excellent platform for young people from within areas local to our 3 offices to gain new skills and begin a successful career. All of our past apprentices have gained full time employment within the firm and have progressed to become valued members of the AST community, Charlie is no exception and seems to have found the perfect show case for her talents. She is an asset to our team and will be an excellent conveyancer.
Charlie fought of stiff competition on the night and on behalf of the firm we want to wish Charlie a huge congratulations-  we can't wait to see what the future brings!  
Published:
Monday, 4 February, 2019 - 11:52