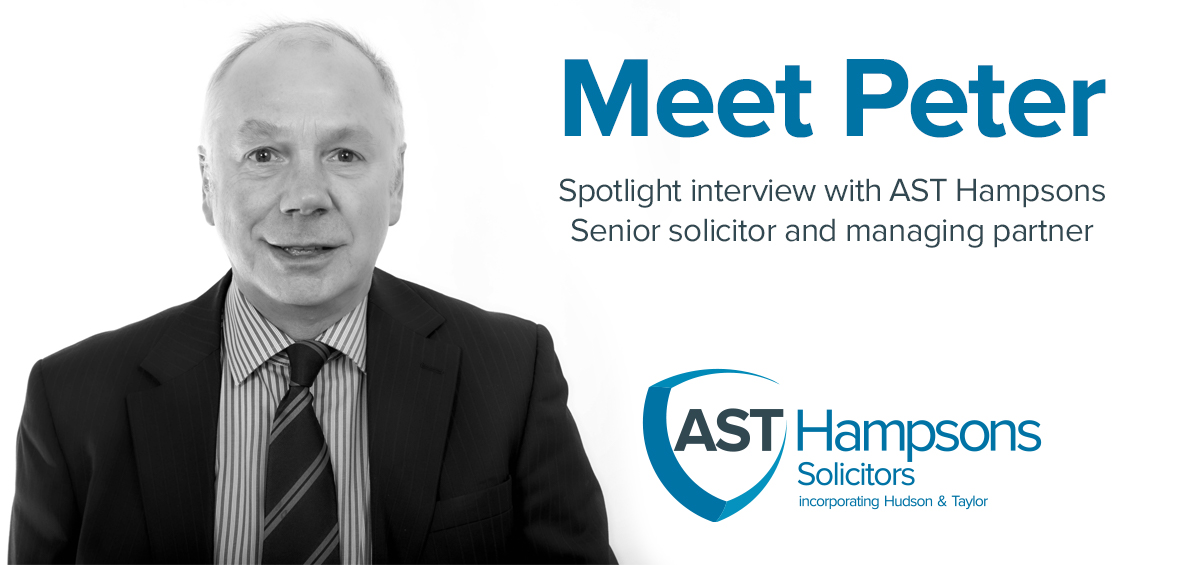 Peter Taylor is a Senior solicitor and managing partner at AST Hampsons. He qualified in 1980 and became managing partner of AST Hampsons in 2008. Read his spotlight interview below.
1. Tell us a bit about yourself – who you are and what your role is? 
Senior solicitor and managing partner specialising in company / commercial work including : - Commercial property sales and purchases, leases etc., pension fund transfers, business sales and purchases, company acquisitions, sales, mergers and restructuring.
2. When did you join AST Hampsons LLP and can you explain about your family background and connections to the modern day firm?
I qualified in 1980 in the firm Standring Taylor and Co, which merged with Athertons in 1989 to form Atherton Standing Taylor, and became the senior partner in the mid 1990's. We then merged with Hampsons in 2001 to become AST Hampsons of which I became managing partner in 2008. I am 4th generation solicitor in the same firm – the first being my great grandfather Edward Lyon Taylor which qualified in 1879 and was articled to Mr John Standring. I am proud that my son James, is also a partner and thus the 5th generation.
3. What is the most unusual or interesting job that you have ever been involved with?
I particularly enjoy acting for local companies / businesses and never cease to be amazed at the entrepreneurial spirit pervading in this area. Examples are composites, including a company which manufactured the equipment for the dinghies used in the Olympic sailing team, plastics including some products for which I have organised the patents, aluminium extrusion, fire proof fabrics that can withstand over 500 degrees C, and a company which invented very sophisticated flame detectors which supplies the military and even has its products in the Red Arrow hangars. I enjoy the challenge of lateral thinking in order to get a deal through. I can be quite challenging sometimes when faced with people who just tick boxes or are incapable of thinking outside them.
4. What do you like most about AST Hampsons?
The people. We are a happy hardworking and genuinely caring bunch, and it is an honour to be the senior partner.
5. Can you describe a typical day?
Hard work and humour.
6. If you were stuck on a desert island with three things, what would you bring?
A piano, a way of playing music (wind up gramophone with LP's ??) and I would have to learn to fish, so fishing tackle. Am I allowed a girl Friday as well?
7. What is your hidden talent?
Writing songs and music… and being wiser than some might expect!
Published:
Thursday, 29 March, 2018 - 08:30