AST Hampsons were really proud to have had one of our longest serving members of staff, Liz Anker selected as a contributor to Rochdale's Find Your Space art project.
The artwork will be displayed on the side of building at 21 Baillie Street for the next year together with many other images from other contributors showing what Rochdale means to them.
Liz's entry  had her creating artwork about the history of Rochdale and shows text from the Doomsday Book, the Shepherd sisters who were the first two suffragettes in Rochdale, the football stadium, Town Hall, the Co-Op building on Toad lane and other pictures which are part of Rochdale's' rich history. The artwork which is among other pieces of art which are now displayed around the town is helping to make Rochdale town centre a really attractive place.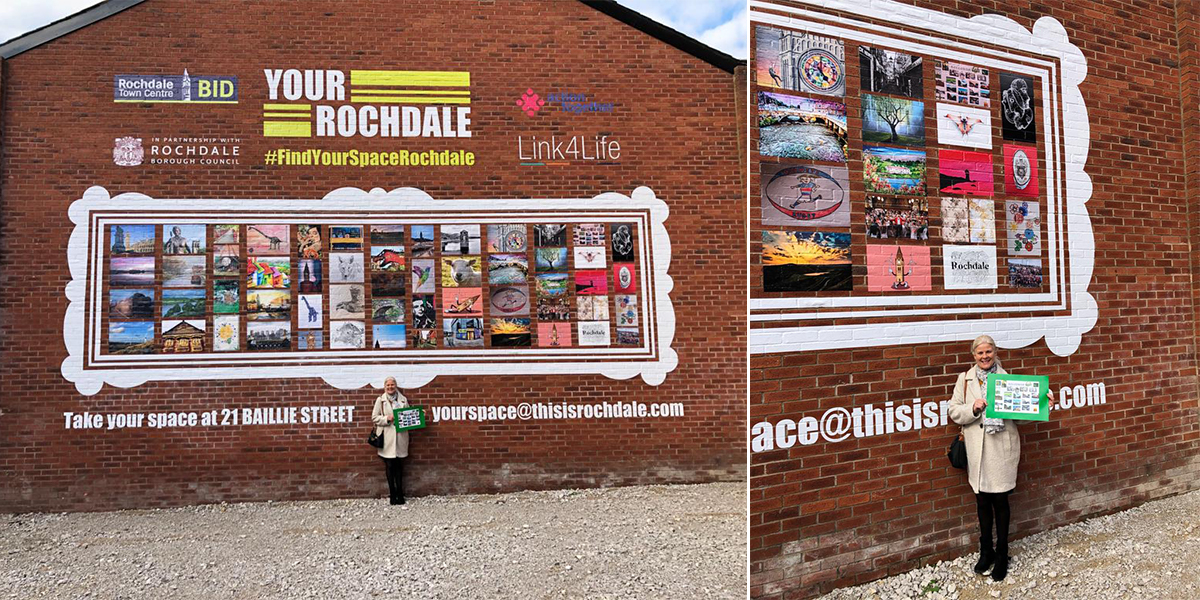 This is not the only occasion on which Liz has had her artwork or photography displayed or used for the benefit of others, she has had her photos of Hollingworth Lake shown on Granada TV weather and has designed and produced Christmas Cards to raise money and currently she is making 'first footing bags' to bring good fortune in readiness for New Years Day!
Liz has been a tireless fundraiser over the years for many charities such as Age UK, Petrus Community, Springhill Hospice, Guide Dogs for the Blind and is regularly organising collections of food for the local food bank, she has also raised funds for causes much further away such as a children's home in Cambodia.
Liz remembers … It all started after my brain operation in 2016 when I was left with a stroke, I was determined the stroke would not impede on my everyday living and wanted to show everyone that with hard work and determination you could reach your goals, live life the best you can and help others less fortunate so my fundraising began J.   As part of my rehabilitation, charcoal drawing helped me immensely with my writing, using a keyboard again and being able to hold a glass of wine without spilling it! So that's when the idea of drawing Xmas Cards to raise money for the Foodbank/Homeless came to mind.  The other thing I really struggled with was cracking an egg! How I struggled to make a cake!  So, again, I practised and every week I was bringing cakes and buns into the offices to sell for the Foodbank.  I think I raised about £220.00 December 2018 together with all the donations provided by the staff at AST Hampsons.
In the same month, Petrus Community, a charity which provides residential and day support services for people in housing need, had a Christmas Gift Appeal in partnership with Rochdale Social Services.  There was a very sad looking Christmas Tree in Petrus with lots of Xmas gift tags hanging from the branches.  Each tag had a childs name and age on.  You took a gift tag from the tree, went and bought a gift for the child whose name and age you had picked and took it back to Petrus who wrapped it up and handed it to Rochdale Social Services to give to the child so they would have a present on Christmas morning.  This pulled on my heart strings and both myself, my husband and our children regularly went into Petrus and took gift tags from the tree to donate gifts.   I still hang the tags on my Christmas tree every year.
December 2019 – Springhill Hospice participate in a "Santa Dash" around Hollingworth Lake every year to raise money for the Hospice.  We entered a team of 4 (and 2 dogs), dressed up like Santa and walked round the Lake, laughing, chatting and raising money every step of the way.
My latest project is to help Maggie's, a charity providing free cancer support for patients and families.  I have been making "First Footing Bags" to carry over the threshold on New Year's Day to bring good luck, health and happiness next year.  I have raised £70.00 as at today's date but my aim is to reach £100.00 before Christmas.  It doesn't seem much but I'm sure it will help someone somewhere.
Published:
Wednesday, 21 October, 2020 - 08:57