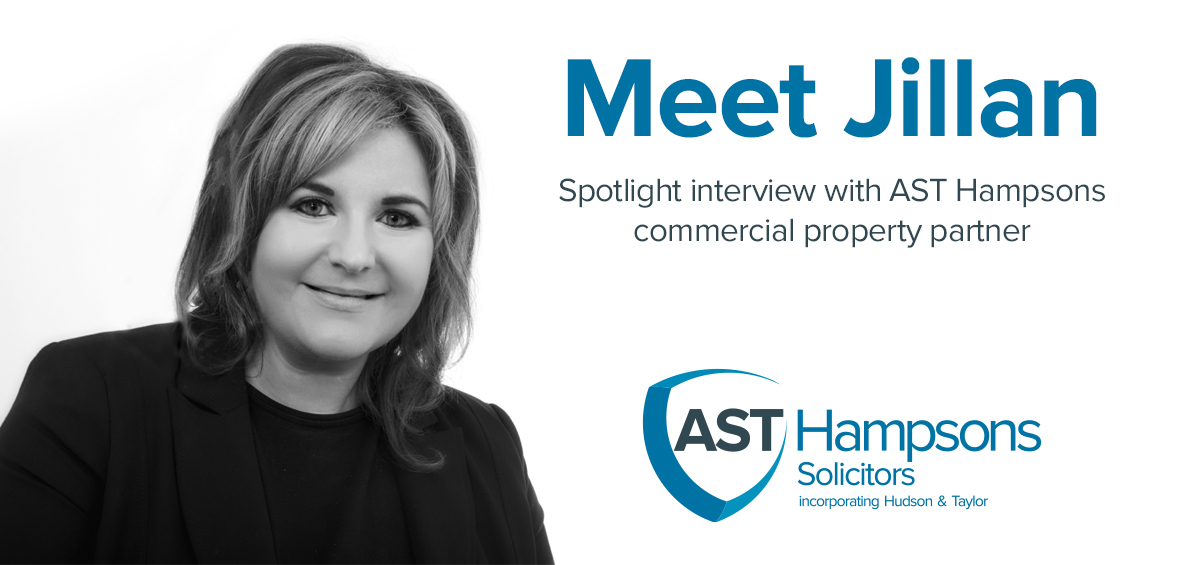 Jillian Josephson is our Commercial Property Partner. She is 12 years qualified and joined AST Hampsons in February 2016. Read her spotlight interview below.
1.Tell us a bit about yourself – who you are and what your role is? 
My name is Jillian Josephson and I am a Commercial Property Partner at AST Hampsons.  I am 12 years qualified and work alongside Peter Taylor, the Senior Partner, who is more than 30 years qualified!
2. When did you join AST Hampsons?
I joined AST Hampsons on the 29th February 2016 – I am often reminded that I will only have an AST anniversary every 4 years!!  I trained and qualified in Cobbetts in Manchester before moving to DWF.  When I had my little boy I worked in a non-fee earning role for 18 months at QualitySolicitors as a regional director looking after various high street law firms across the North West and was headhunted to join AST Hampsons from that role.
3. Describe a typical day.
No two days are ever the same!  Working on the high street means that there is a variety in both the type of client and work that comes through our door every day.  We tend to deal predominantly with SME's and entrepreneurs who are local investors or using their pension funds to buy assets.  We also deal with any commercial property matters that arise that the clients need help with which can be anything from asset management, buying and selling, dealing with leases, landlord and tenant advice, option agreements and anything else that involves property.
4. What 3 words would you use to describe AST Hampsons.
Established, client-focussed and here for you – sorry, more than 3 words I know!
5. What do you like most about AST Hampsons
I am one of the newest members to joint AST Hampsons and it immediately struck me how long standing many of the staff members are.My current secretary has been with the firm for over 8 years and it is a lovely place to work with a big family atmosphere.Peter Taylor, our Senior Partner, is down to earth and AST Hampsons has been in Peter's family for 5 generations. His son James heads up our Conveyancing Team and Bury office. It is a great family friendly place to work and I feel lucky to be in such a fantastic firm.
6. What is on your wish list for the next 10 years
As one of the younger equity partners in the business, my hope is that the firm continues to thrive and grow, adapting to market changes and serving our local community. I am very conscious that AST Hampsons is a family firm, passed down through many generations (and is the product of mergers of a total of 11 local firms!) and I hope to continue that legacy whilst at the same time surprising and delighting our clients!
7. If you were stuck on a desert island with three things, what would you bring
I would have to say my family (does that count as one!), my phone/lap top and my favourite perfume!
8. What is your hidden talent
Matchmaking! I have set up a number of couples who have lived happily ever after and made it down the aisle – sometimes this is intentional sometimes not but I think that if I wasn't a lawyer I would definitely be (or want to be) the next Cilla!
9.Give an example of something unusual that has happened to you.
I was lucky to secure my first ever work experience in my first year of university when my flight from Belfast to Manchester was delayed. We were on the plane and I got chatting to the gentleman beside me who coincidentally was a Partner at Addleshaws. We got chatting and I asked for work experience. For the week I was with Addleshaws, I was referred to as the "plane girl"!!!!
Published:
Thursday, 29 March, 2018 - 08:00